A Guide to Hallmarks
In this guide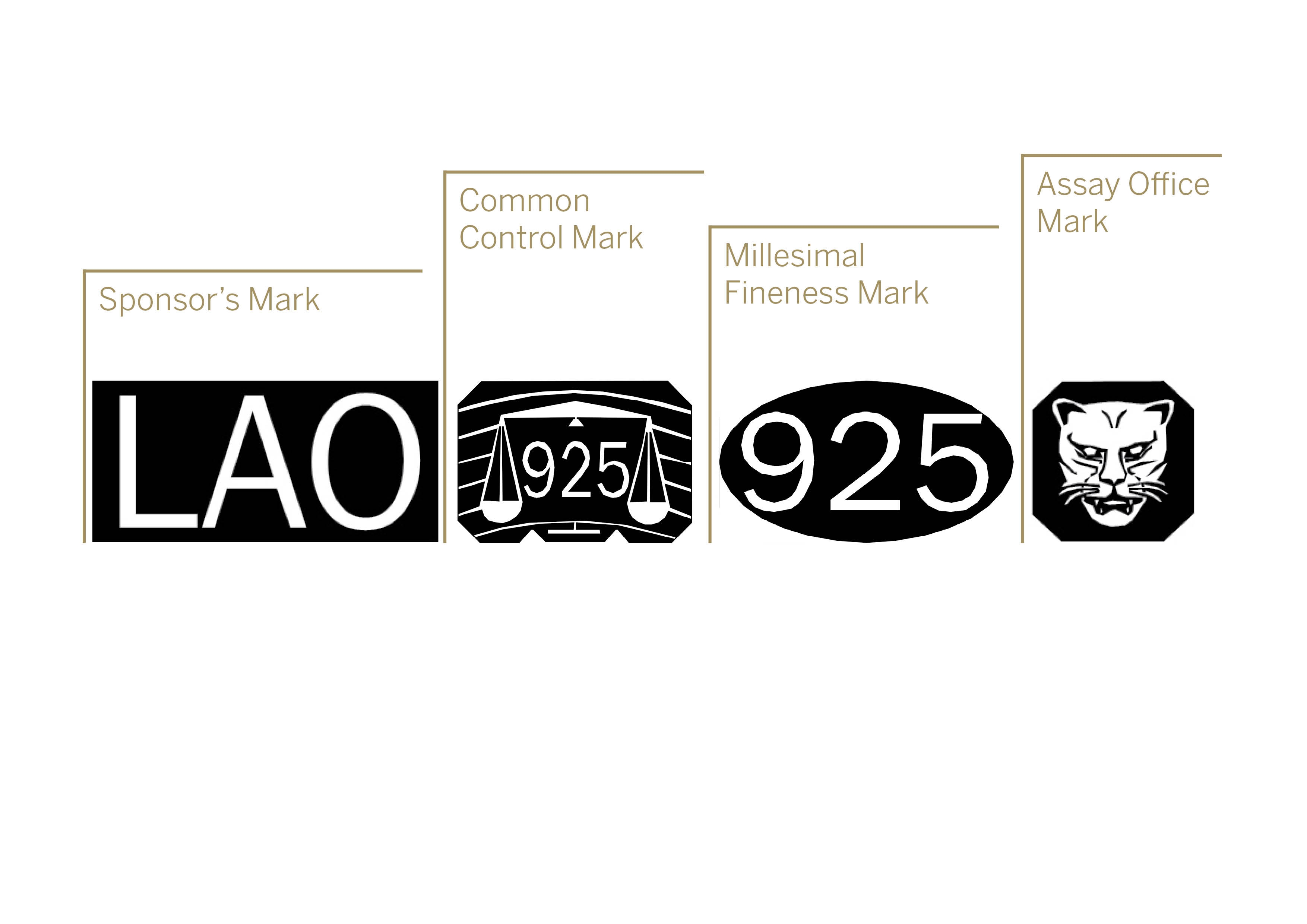 What is a hallmark?
Precious metals used in jewellery, cutlery and giftware are almost always an alloy of pure metal and another metal to give a piece of jewellery durability and flexibility. UK regulations dictate that for the four main precious metals (gold, silver, platinum and palladium), all must have a minimum amount of the pure metal within them in order to be classified as a 'precious' metal - this percentage of purity is described as 'fineness'.
Because of the high value associated with pure metals, it's important to know that the piece of jewellery you are buying is genuine - it's impossible to tell from sight or touch alone if the metal is solid gold or silver, or a base metal with plating, or a weak alloy. This means there is a huge opportunity for fraud within the industry - hallmarking is regarded as protection for jewellery buyers and suppliers because it ensures that jewellery items are genuine.
What does a hallmark show?
At the four assay offices around the UK, every piece of hallmarked jewellery is independently tested and marked (traditionally by a stamp, but more modern techniques involved a laser) to assure that it conforms to the legal standards of purity for the respective metal. Think of it similar to a diamond certificate but instead, a hallmark details the maker name, where it was assayed, the purity of precious metal, as well as when it was made and if it was to commemorate a special national event.
Hallmarks are generally set in a horizontal line, slightly less than 1.5mm in height. The most common order of hallmarks from left to right is; sponsor, fineness (purity) and assay office. Other hallmarks after these are optional. Date letter and any commemorative marks for example are optionally added but, you will most likely see these if the hallmark is being featured for decorative purposes. Generally though, hallmarks will be placed somewhere inconspicuous on the jewellery like the inside of a ring band, or the back of a pendant so as not to disrupt the aesthetics.
What metals are hallmarked?
Gold, silver, platinum, and palladium are the four precious metals that require testing and hallmarking to be legally sold as genuine. The minimum weight that requires hallmarking for each metal is as follows:
0.5 grams for Platinum
1 gram for Gold
1 gram for Palladium
7.78 grams for Silver
Compulsory Hallmarks
Sponsor/Makers Mark
This mark represents the registered company that submitted the jewellery for hallmarking
Every jeweller will have their own unique mark, which will allow you to trace a piece of jewellery back to its original source
In our case at James Porter & Son, our makers mark is 'JP&S' shown in the image
Millesimal fineness mark
This mark denotes the content of precious metal within the jewellery item, expressed in parts per thousand
Each type of metal will have a number in a different shape shield
The mark will always denote the lowest standard of alloy content found when testing, guaranteeing the quality of your jewellery will always be no less than the fineness described
The current standards for each metal are as follows (all describing the parts per thousand of pure metal):
Gold - 9ct (375), 14ct (585), 18ct (750) and 22ct (916)
Silver - sterling silver (925) and Britannia silver (958)
Platinum - 950
Palladium - 500 and 950
Assay Office Mark
There are 4 assay offices in the UK, where every article of jewellery must be tested and hallmarked
Each office has a distinctive symbol, which allows the owner to trace their article back to where it was first tested
Below are the 4 current UK assay offices. There are a handful of other assay offices but they no longer trade. You may still come across items with a different assay hallmark especially if they predate the 1960's:
Date letter mark
Every year on the 1st of January, a new date letter stamp is created, and at the end of the year this stamp is destroyed
Date letters became optional in 1999 so most modern items you will find in store now may not commonly have this stamped inside
Because the font and shape of the stamp change every year, it's possible to pinpoint when the article was assayed
Before the introduction of the Hallmarking Act 1973 the 4 UK assay offices labelled dates using different letters. Since the Act was introduced each assay office prints the same letters each year
Date letters are a great way to identify the age of a piece of jewellery which can see in the image
Traditional fineness mark
In addition to the compulsory fineness marks, you may also see a traditional fineness mark. These marks are applied as standard at the London assay office, but are optional elsewhere as shown in the image.
Commemorative marks
These hallmarks are applied to articles to commemorate landmark national events. Commemorative marks are optional, but are also a useful indication of age as each commemorative mark related to a date in time often highlighted by a portrait.
Convention Mark
Since 1972 the UK has been a signatory to the International Convention of Hallmarks. This is an international convention to provide a safeguard for the trade of jewellery across borders by hallmarking internationally recognised 'control marks' which are shown below.
The shape around the Assay Office mark may vary according to whether the article is gold, silver, platinum or palladium however, out of all optional hallmarks, the 'common control' mark is the most important to look for.
How Jewellery is Hallmarked
There are two main types of hallmarking – stamp and laser. Traditionally it was always stamped into items of jewellery which was not always ideal. If the item was hollow or of a delicate nature it could actually cause the item to become slightly misshapen. In some older rings as the metal wears down over the years the stamped hallmark can actually become obvious from the outside too.
Nowadays most manufacturers opt for the laser hallmark. Due to the popularity of stone set wedding rings and intricately designed jewellery the laser hallmark does not distort the jewellery and in most cases it is very subtle and sometimes difficult to see without using a loupe.
The only drawback to this is that if a ring has a laser hallmark and requires sizing the hallmark can be very easily polished out. If this happens during the sizing process it needs to be returned to the assay office to have its hallmark restored as no-one else can legally apply it.
Contact us by phone at 0141 221 5855 or by email at [email protected]. We love our work and will be happy to help you with your query, we can also book a convenient time for a consultation to find the exactly what you need..

Back to top